Hello everyone and welcome to my blog! This post is the second part of my self-hosting process and experience which is in total, divided into three parts. You can check out the other two and I'd gladly appreciate it:
Why I Chose Hostinger As My Web-Hosting Provider; and
*Affiliate Disclosure: I used affiliate links in the post and does earn a small commission from certain links. This does not in any way, affect your purchases or the price you may pay. All opinions are 100% my own.
My goal for this whole self-hosting process is to be informative as I can, so I decided to divide this post into five parts:
What is self-hosting?
What is Hostinger?
Why did I choose Hostinger?
Cost breakdown: How much did it cost me overall?
Is it worth it?
What is self-hosting?
First, we need to know what self-hosting is. When I started blogging in WordPress, I absolutely have no idea what self-hosting is. I just know that when you don't have a "wordpress.com" in your blog URL, then you are self-hosted and it has just gotten into me that I was wrong the whole time. Not all "forexample.com" sites are self-hosted because some of them only purchased domains and/or plans from WordPress and from different domain purchasing site.
Self-hosting, in the simplest terms, is when you have access to all of your website files and the server where those files are stored. You own those files and ultimately have the freedom to change them anytime you want. You also get to decide how your site is built, from the ground and up. Here's a really good analogy: self-hosting is like owning your own home instead of renting an apartment. When you have your own home, you are responsible for everything and everything you have is your own but when renting an apartment, you're kind of restricted and you don't own the structure but you may own the content. The same goes for self-hosting and sticking with free hosting sites. Source: https://www.janefriedman.com/website-self-hosting
So if you want to own all of your content, customize your own site with no restrictions at all, add plugins to improve your site, then you should go try self-hosting! However, there are also disadvantages in self-hosting like when your site goes down, it will be your problem to solve and you are also responsible for the site backups- except when you include backup for your hosting plan.
Now, let's go on and talk about my web-hosting provider, Hostinger. It is so much more than a web-hosting provider. Hostinger's mission is to provide cutting-edge tools for a successful and sustainable online presence while keeping a reasonable price. They maintain a customer-centric attitude wherein they provide their users with nothing less than the best environment for their projects. Hostinger is also one of the leaders in the hosting industry and their goal is to help their customers succeed.
Hostinger has made its name by providing cheap web-hosting services. Their services are really cheap but powerful. Hostinger starts its plans from $0.99/month and you can get 90% off with the web hosting plans + FREE SSL. SSL is the standard security technology for establishing an encrypted link between a web server and a browser. This link ensures that all data passed between the web server and browser remain private.
Hostinger Pros:
Super affordable web hosting.
Free domain name, free SSL certificate, free BitNinja security, unlimited SSD disk space.
 Free daily and weekly site backups.
30-day money back guarantee.
Hostinger Cons:
There is no phone support.
Not every plan comes with free migration service.
Why did I choose Hostinger?
As I have stated in My Self Hosting Process, I searched for the cheapest but powerful hosting providers because my budget was really tight. I only have 2500 Php (49.62 USD) to spare, so I was really looking for something that would fit the budget I have.
Aside from that, I was also looking for an easy mode of payment. You can pay directly to Hostinger using credit card and you can also use Paypal if you'd like. I don't know the other mode of payments for other countries as I used Hostinger.ph. But in the Philippines, Hostinger can accept payments via: Visa, Mastercard, American Express, Discover, JCB, Maestro, Diners Club, Paypal, Grabpay, Dragonpay, GCash and more. I was surprised that GCash was available which is a total bonus for me.
Aside from the cheap hosting plan and easy mode of payments, I chose Hostinger because I've read lots of good reviews about it and I can have an easy access to WordPress. You can also check out the reviews I've read in the links below:
Cost Breakdown
You probably might be wondering how much did it cost me to finally purchase a self-hosting plan and now, here it is!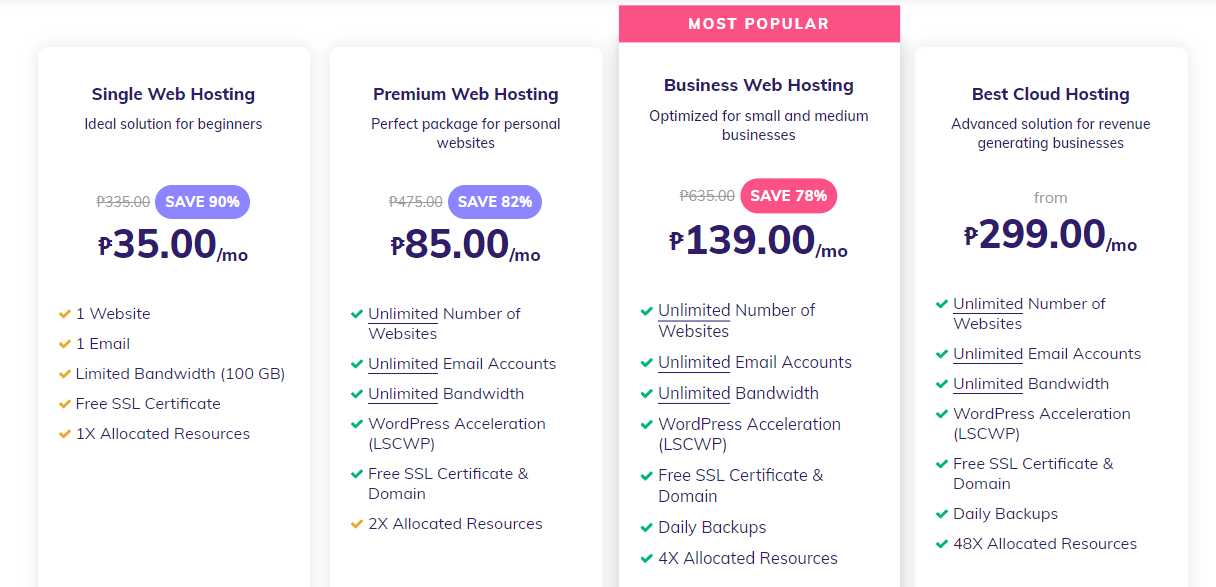 As you can see in the picture, there are 4 web hosting plans available. The one that I purchased is the Single Web Hosting which costs 35 Php per month. Free domain is not included in the Single Web Hosting plan, so I had to purchase a domain and also purchase a privacy protection for domains for a year. Here is the cost breakdown for my plan:
Single Web Hosting: 35 Php x 48 months = 1680 Php ($33.10)
Domain Registration: 406 Php ($8)
Privacy Protection for Domains: 199 Php ($3.92)
Total: 2,294 Php ($45.20)
My budget was 2,500 Php and my total fee was 2,294 Php- which is super great for me! Although I really want the Premium Web Hosting plan because look at those unlimited offers (+ you get to have a free domain), I think it's still okay to have the Single Web Hosting especially that I'm just starting.
So yeah, I am self-hosted for 48 months. I just have to renew my domain registration per year which isn't bad at all. 😉
If you want to check out Hostinger's offers you can click here.
Is it worth it?
YES!!! I got self-hosted for a really cheap price and yet Hostinger's servers are powerful as ever. I really think it is worth it. Plus, I get to customize my own site with no restrictions at all! I really LOVE it. 🙂 I'm still waiting for a few more weeks or month to review Hostinger but for the mean time, I have no troubles at all and their chat support is amazing. 🙂
---
Thank you so much for reading! I hope this post has helped you in some way. If you have any questions, please don't hesitate to ask me in the comments below! I'm still new to all of these, but I'll do the best way I can to help.
What do you think about self-hosting?
Check out the last part of this mini self-hosting process series: Free Themes + How I Customized My Site