Hello everyone and welcome back to my blog! Ever since I started with the self-hosting thing, I was really anticipating to do posts like this and here I am, finally starting! I have decided to divide this blog-hosting posts into three parts:
My Self-Hosting Process;
Be sure to check out the other two! Okay, let's get started!
*Affiliate Disclosure: I used affiliate links in the post and does earn a small commission from certain links. This does not in any way, affect your purchases or the price you may pay. All opinions are 100% my own.
I have been blogging since 2015 and I fell in love with it more last 2017. Ever since, I have always dreamed of going self-hosted because I really like the idea that I could do anything with my site without restrictions. I also loved the idea that I get to experiment with different themes and that I can customize it exactly the way I want, which is not available for WordPress free plan. And now here I am, finally self-hosted!
The Process
Researching
Firstly, I did some research. Going self-hosted is actually an investment because it involves money, and I wouldn't want my money go to waste. The first thing I did was to actually search for the cheapest web-hosting platform that would fit my budget. I considered Bluehost, Siteground, Dreamhost and many other platforms but I really think they were too pricey for me. Bluehost was actually good and cheap, but the total amount that I have to pay still didn't fit in my budget.
I published a post and asked some of you about what web-hosting platforms you use, and I am so glad that one of my friends, Nath, mentioned Hostinger to me so I immediately checked it. I was really glad because my budget fit in and not only that, Hostinger is also one of the leaders in the hosting industry which is a win-win for me! So yes, I got hosted with Hostinger and I will talk more about this on Why I Chose Hostinger as my Web-Hosting Provider so you can check it out! And thank you so much, Nath! You definitely helped me big time with this and I am forever grateful!
*You can check out Hostinger plans by click this link or clicking the photo below:
Transferring from WordPress.com to WordPress.org
After paying for the shared hosting plan in Hostinger, I installed WordPress on my hPanel and there, I was able to transfer my WordPress.com site (jirahmerizz.wordpress.com) to WordPress.org (writingsbyjm.com).
I think I was on my laptop the whole day because I can't figure out how transferring sites work. But it's actually really easy and I literally face-palmed by head when I finally got to do it. I think I spent more than three hours reading how to and complaining why my site doesn't migrate.
I was SUPER confused at first and I didn't know what to do so I contacted Hostinger's customer service and I was really glad they replied immediately and helped me transfer everything. The customer service staff that I was talking to was so supportive and patient with me, so I really give a thumbs up for that! I think I just have to wait for 5 minutes before she replies and it actually doesn't matter to me because I gave myself 3 days to finally make my new site go live.
When transferring WordPress.com to WordPress.org, you get to transfer ALL of your blog content and your blog subscribers MANUALLY. To transfer the stats you have in your WordPress.com, you have to consult a WordPress Happiness Engineer to transfer the stats to you. Mine got transferred six days after I finally made this blog live.
If you'd like me to write a tutorial or a guide about the whole transferring process, comment down below! You can also contact me via email if you need some help.
Installing Plugins
During the 3 days of manually transferring my site, installing plugins are part of the process. Good thing, WordPress.org has a list of plugins I need for the site. One of the most important plugins is the Jetpack plugin, which can help you manage your site easily. I was able to do the transferring because of Jetpack and you can also still see my posts in your Reader because of Jetpack. This plugin is really important! And of course, don't forget the WordPress Importer to move the site!
Other plugins I have that are very essential to starters:
*Ad Inserter (Ad manager I use for my blog.)
Akismet (Protects my blog from Spam)
Archive Remote Images (Not all of my media library from WordPress.com is imported to here, this is the plugin I use so my readers can still see the media posted before.)
Contact Form
Health Check & Troubleshooting
Litespeed Cache (High performance site optimization.)
Yoast SEO (Makes my post more accessible to search engines.)
Customizing
This is the part that I really enjoyed the most. I got self-hosted mainly because I really want to have more freedom in the customization of my blog. When I finally chose a theme, I had to do so many things like putting sidebar widgets, footers and menus. I actually really enjoyed editing so I didn't care too much if I took so long.
More details are posted in the third part of this post series: Free Themes + How I Customized My Site so go check it out!
Making it live!
And that's it, the fruit of all the hard work! And if you think this is complicated, nope. I actually had my site live already and visitors can see it while I'm editing because I didn't know how to make it private for awhile. So by saying making it live, it means that I have published a post to welcome you all in my new site!
This is the post I published: Welcome to Writings by JM!
---
And voila, I am self-hosted! If you'd think about it, 3 days before finally making this blog live is actually long… but others experience a week or two to finally transfer everything from one site to another. There are actually services that would let you pay so you can just sit and chill while your blog is being migrated, but that's not an option for me because of my budget. I did everything manually… which isn't really hard as I thought it was!
Thank you so much for reading this post. If you need any help or if you have any inquiries about self-hosting and would like to talk to a friend, you can contact me anytime!
What are your self-hosting experiences and your self-hosting platform? Drop by in the comments below!
---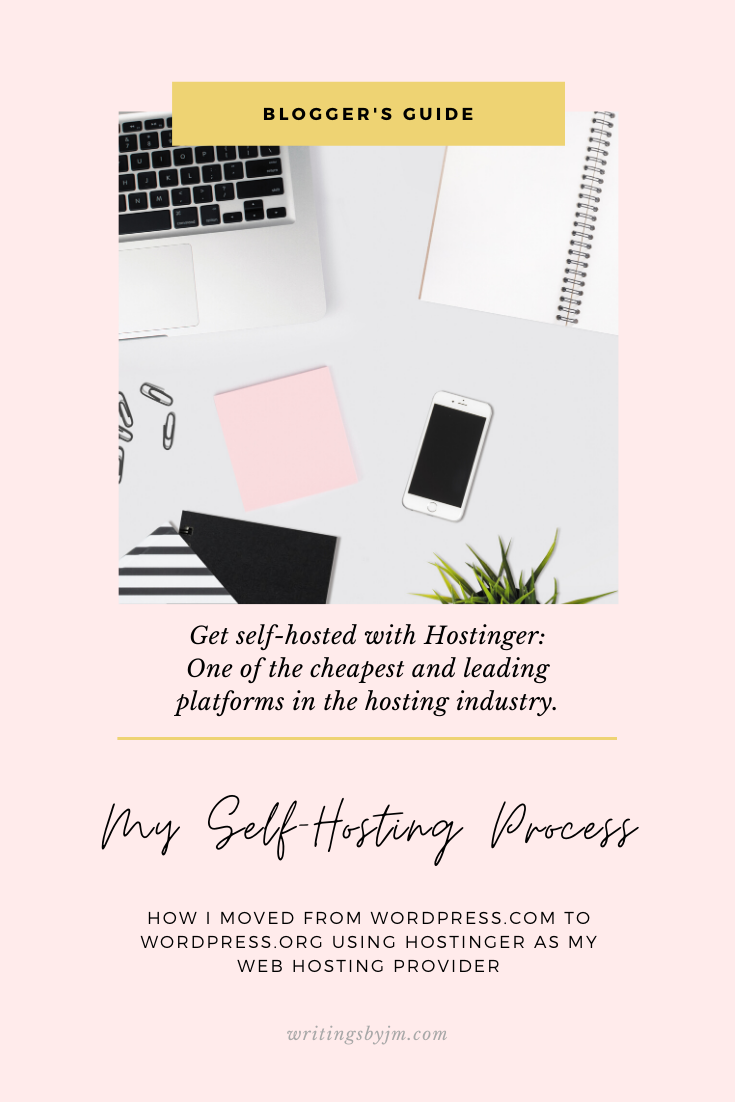 Follow Writings by JM on WordPress.com